Fibercations carries the complete line of Ashford products. For even more information, please click to visit the Ashford website.
JOY - The perfect wheel for the spinner on the go. the entire wheel and it's built in lazy kate folds to fit into a nice strong, padded shoulder bag with plenty of pockets to carry accessories. The Joy weighs only 11 pounds and is factory laquered and assembled. Includes scotch tension and ball bearings. email for price.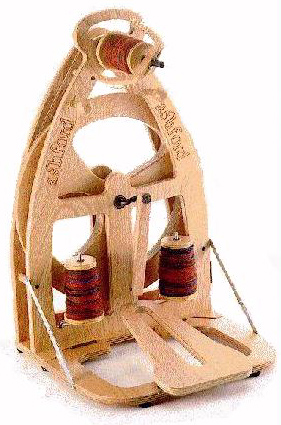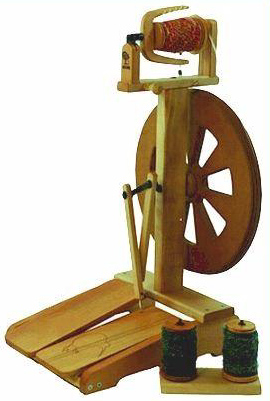 Kiwi - The double treadle on the kiwi makes his wheel easy to start leaving hands free for spinning. Scotch tension and a double bobbin lazy kate is included.Skein holder, jumbo flyer and high speed kit are optional for this smooth running wheel. a great value at email for price
Elizabeth - Described as the fairytale wheel, this beautifully crafted wheel will look magnificent in any home. Spins effortlessly. Includes lazy kate and double drive with scotch tension option. If you require additional equipment, a high speed double drive adaptor kit is available along with a jumbo double drive flyer kit, flax distaff, and quill spindle. Unfinished - Polished walnut finish email for price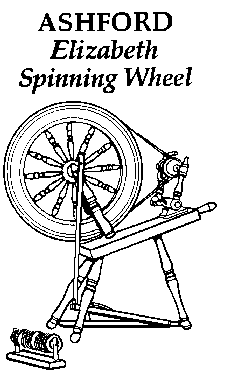 Traditional - For your first wheel, the traditional is perfect. Choose from scotch tension or double drive. The double drive has both options. A left handed traditional wheel is also available. Includes 4 bobbins and a lazy kate. Many accessories including a high speed double drive adaptor kit with ratios 14 & 17.5:1 (22:1 bobbin lead); double treadle kit to give you even more power;a lace flyer kit with 3 special bobbins, ball bearings - ratios -15, 20, 30, 40:1; and a jumbo flyer kit with 4 big bobbins and ratios 4.5:1, 9.o:1. The traditional unfinished - . Left hand unfinished - . Natural laquer finish - polished walnut finish - Double drive unfinished - Double drive polished walnut finish email for price
Traveller - A classic castle wheel and another good one for a beginner. The traveler has all the optional equipment of the traditional wheel pluss a distaff and a quill spindle. 4 bobbins and a lazy kate are included. The Traveller unfinished . Polished walnut finish - Double drive unfinished - Double drive polished walnut finish $ email for price
Electric Spinner - Peaceful spinning with a silent motor and direct-drive flyer. Infineitely variable speed from 0-1500 rpm for all skill levels. Hand controls for on/off, reverse and speed. Enjoy spinning outdoors with the handy car cord. Assembled and laquored. 12V adapter Foot controller email for price
Country Spinner - For big novelty yarns, the country spinner has a huge bobbin. The orifice is 2.3 cm and the bobbins hold approximately 2.2 pounds. Great for giant creations. Unfinished emai for price

Ashford also provides Fibercations with a variety of spinning chairs, lazy kates, a maintenance kits, bobbins, drop spindles, wool winders, cone winders, videos, books and swifts. For more information, please see our accessories page.