Recycle Neal's Wooden Tools for Spinners
In his earlier years, Bob Neal kept himself busy making and selling complicated wooden puzzles from wood that he recycled. Now that he's married, he's being encouraged to make more useful tools from his treasures. Fibercations is happy to have an exclusive on Bob's wonderful wooden creations.
Oh, by the way, Bob still makes his puzzles. They're great for stocking stuffers or just to stump that know-it-all.
Neal Noddies – No two two-yard Neal Noddies are the same. Bob makes them from the finest recycled woods that can be found. They're hand sanded and finished in the 2 yard size. The curve insures that anywhere you place the yarn, the length will be the same. You may request light or dark wood, or a combination of the two. $24
Bob's 1 yard noddies are great for samples or that little bit of yarn that always seems to be left on the bobbin. One end can be removed or twisted so that it can be easily inserted in your bag for that class you're about to attend. Unfinished $4 Or with hand rubbed oil finish $6
Umbrella Swifts – Most so far are made of oak and are finished with hand rubbed oil before assembly. Adjustments are easily made with wooden screws to accommodate most any size skein. $65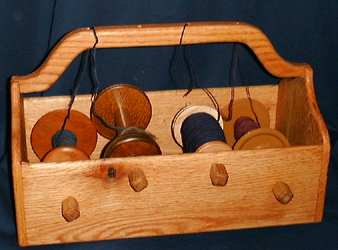 Lazy Kate Plying Boxes – What a great invention! The yarn goes up through the handle to minimize any chance of plying disaster. Bob will make them to fit your bobbin or he can make them big enough to fit any bobbin that you may acquire in the future. Let us know what size bobbin you have. Mine is big enough for my Louet bobbins but I can also use it when I ply from my joy bobbins. The Lazy Kate Plying Box holds 4 bobbins. $45
Hair Barrettes – Bob uses the most unusual slices of wood that he can find for these barrettes, hand sands and finishes them, and attaches them to metal clips. We haven't found a head of hair too thick for these clips yet. They were a big hit at the NwRSA conference in June '99. $5 each
Puzzles – The only way I get an exclusive on Bob's creations is to include his puzzles on this website. They are quite intriguing. Don't expect a solution, maybe a hint comes with each one but to get the soluton, you have to e-mail Bob neal@pacifier.com and beg.
Pyramid – two pieces of wood make one pyramid. Not as easy as it might seem $2.50

Loops – Simply remove the leather strap from the wooden piece without removing the beads. You're not through, you have to put it back together again. $6.50

Wooden intersection - This "X" is simply held together with 4 wooden sliding pins inside each leg. (I think that he should make some "O's" to go with it) All you have to do is take it apart. $6.

Cubes – Easy to take apart but the trick is putting them back together; these are tough and range in price from $14 to $28.